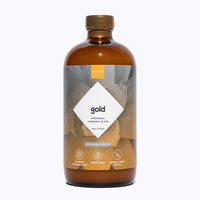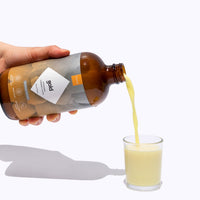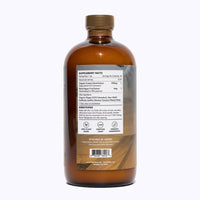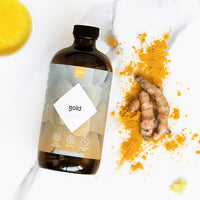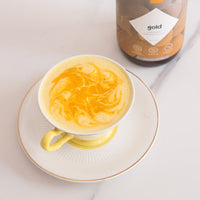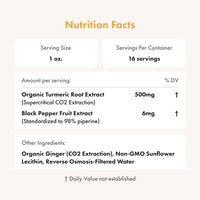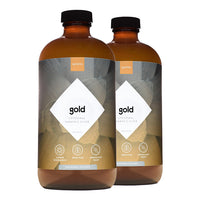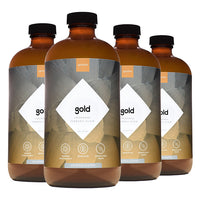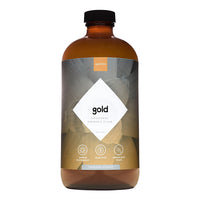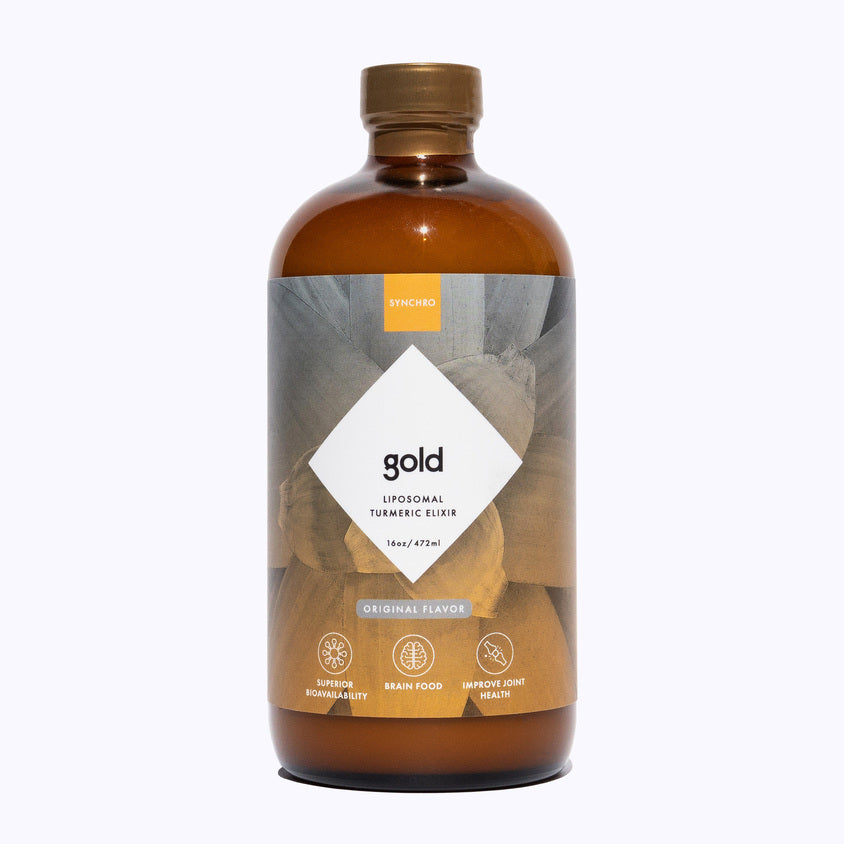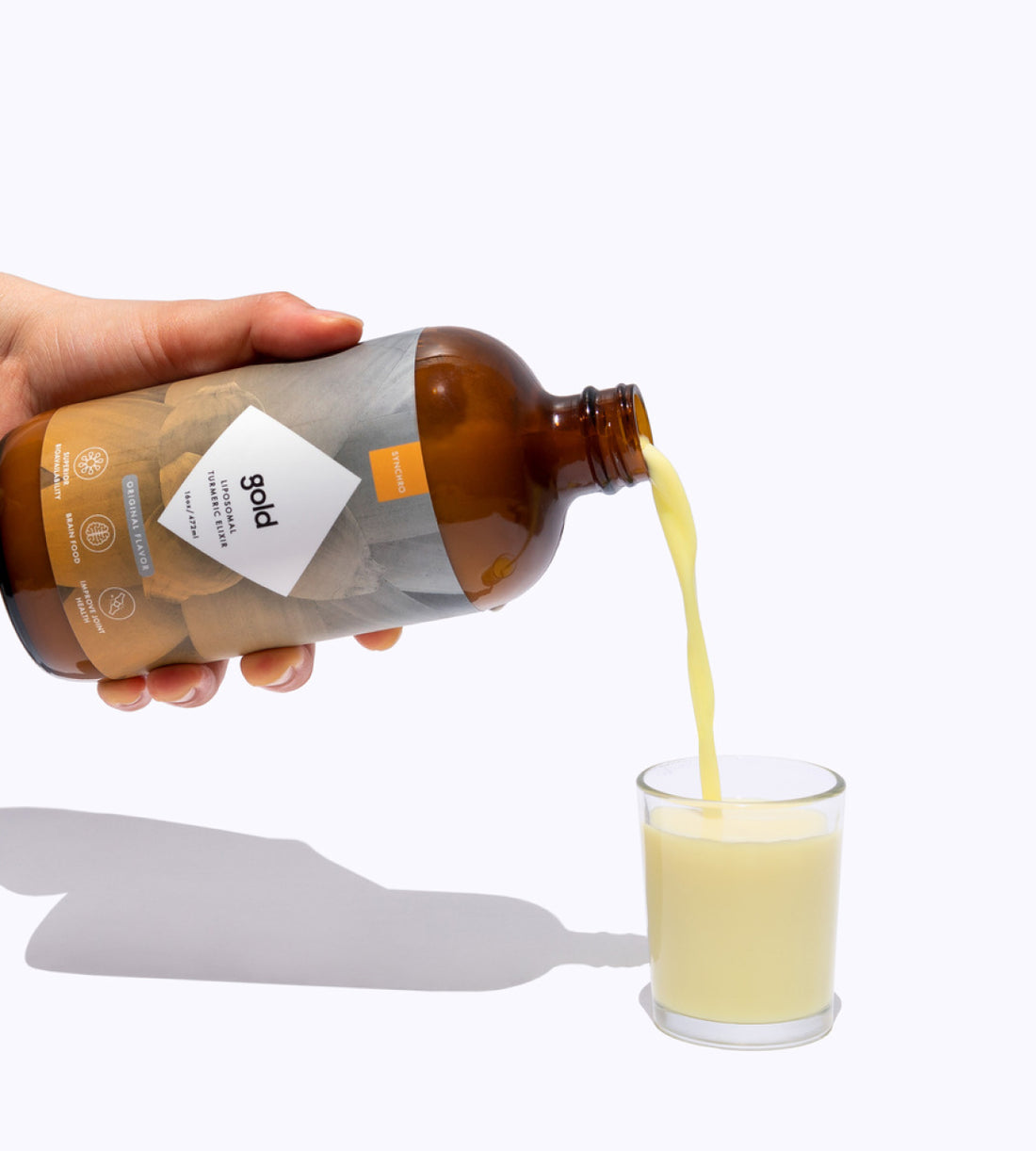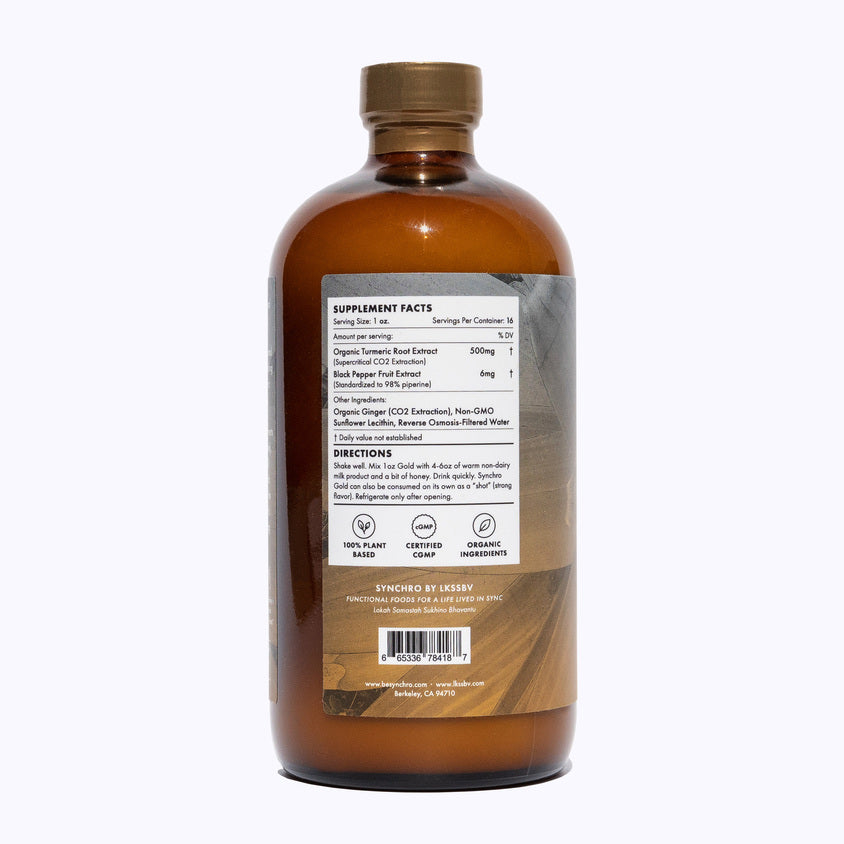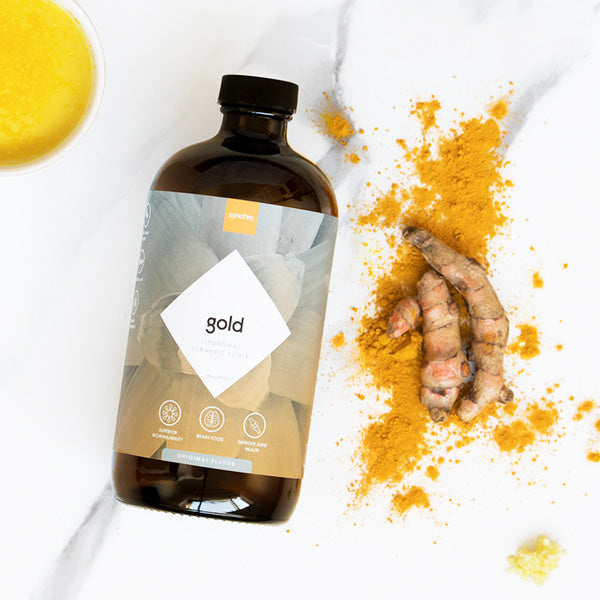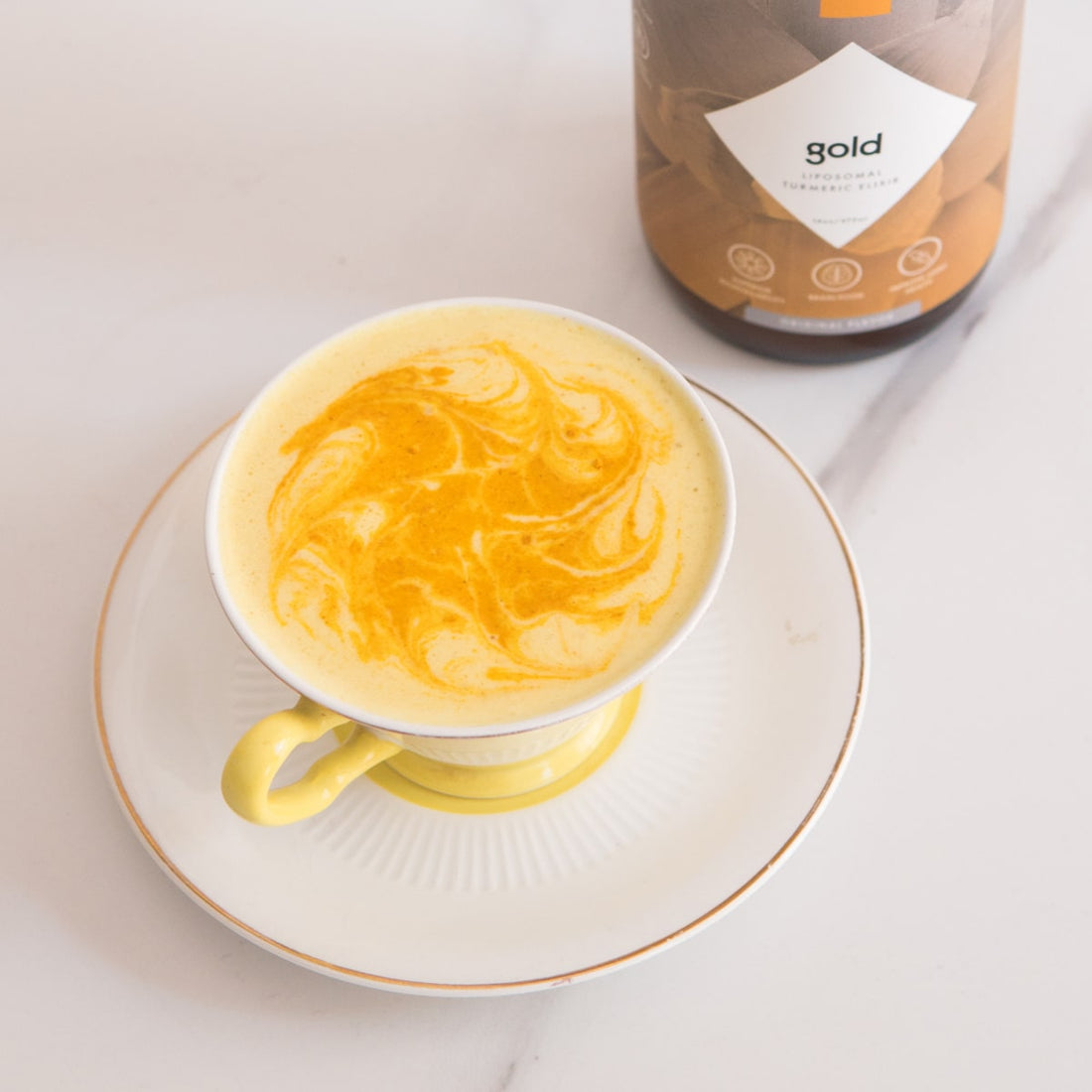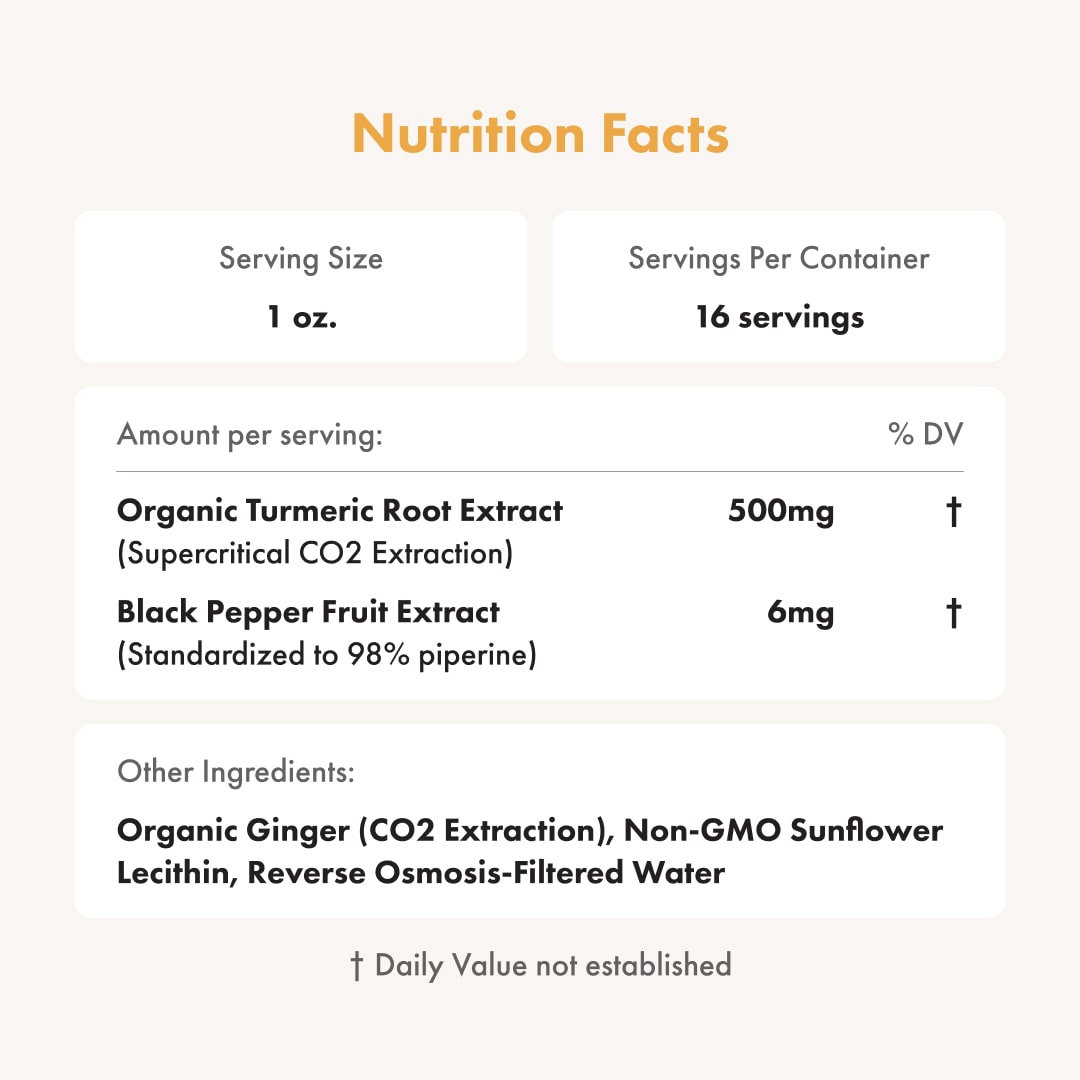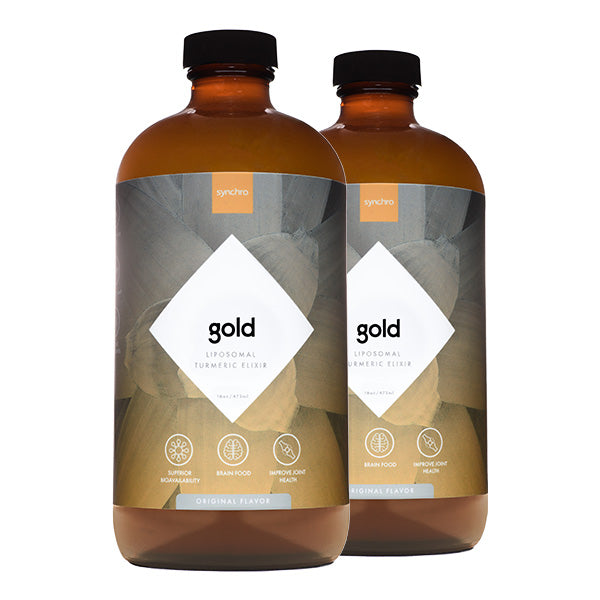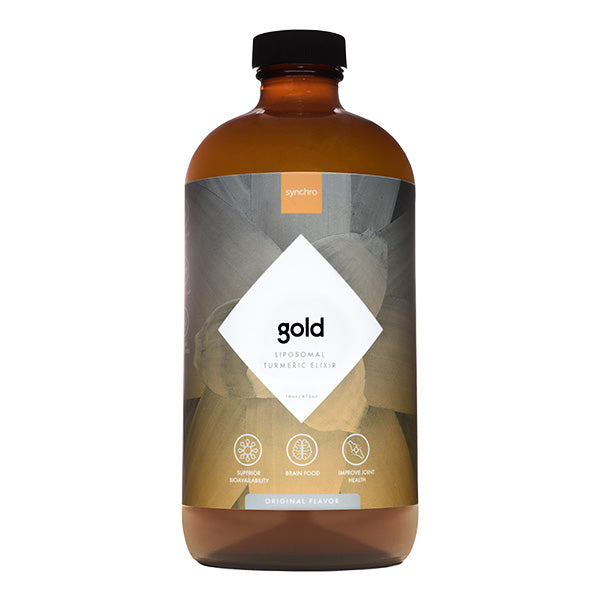 ---
Liposomal Turmeric Elixir
Gold Liposomal Turmeric (Original)
Turmeric has gotten a lot of press lately.
It's heralded for its ability to reduce inflammation, boost the body's antioxidant systems, and improve cognitive functioning. Synchro Gold utilizes a super-concentrated extract of turmeric root, formulated with a cutting-edge nutrient delivery system, to create an elixir of unmatched bioavailability and potency.
Suggested Use
To help support a healthy inflammation response and healthy energy levels, take 1-2 servings daily. Shake well. Mix 1oz Gold with 4-6oz warm non-dairy milk product and a bit of honey. Drink quickly. Synchro Gold can also be consumed on its own as a 1oz "shot" (strong taste).
Synchro Gold pairs innovative extraction technologies with black pepper extracts and liposomal delivery to deliver the ALL of turmeric's bioactive healing compounds to your body in their most bioavailable form.
Full Spectrum Extraction
While other turmeric extracts deliver only one or a few of the root's active alkaloids (curcumin, for example), Our proprietary CO2 extraction contains the full spectrum of turmeric alkaloids, just as you would find in raw turmeric root. Full-spectrum extracts of turmeric have been shown to stimulate production of powerful antioxidant enzymes in the body, "turning on" our body's innate healing response.
Liposomal Delivery
In their raw form, turmeric's potent alkaloids are poorly absorbed by the digestive tract. To address this, we pioneered the first truly liposomal turmeric product. By binding the turmeric alkaloids to a specific type of fat called phospholipids, Synchro Gold dramatically improves absorption into the body. Studies have shown that liposomal delivery makes turmeric's healing alkaloids up to six times more bioavailable.
Black Pepper Fruit Extract
Under normal circumstances, a large portion of the turmeric alkaloids are broken down in the gut before they can be absorbed. Extracted from organic black pepper fruit, piperine inhibits an enzyme in our gut, drastically reducing this premature break down. Studies have shown up to a twenty-fold increase in bioavailability when turmeric is paired with black pepper fruit extract.
Gold Liposomal Turmeric (Original)
Frequently Asked Questions
Synchro Gold is made in a cGMP and Organic Certified facility in Southern California.
Our organic turmeric and ginger extracts (supercritical CO2 extraction) come from organic-certified farms in Vietnam. The organic certifications and inspections for both are done by QC&I International. Our sunflower lecithin comes from US-based farms and is Non-GMO Project Verified.
Synchro was founded in 2011 by biochemist and nutritionist Graham Ryan with the mission of helping others pursue a state of true health. Synchro is headquartered in and ships all orders from Berkeley, CA.
Synchro Gold will be particularly beneficial to anyone suffering from joint or muscle pain, stiffness, and other arthritis symptoms. Because Synchro Gold is highly anti-inflammatory, it can also help with conditions of low energy, foggy brain and fatigue.
First and foremost, Synchro Gold works by inhibiting a critical enzyme in the inflammatory process in our body. This produces the most dramatic reduction in pain and inflammation. Synchro Gold is remarkable because it also stimulates our body's own antioxidant systems, improving the body's ability to heal on its own.
Drink at least 1oz of Synchro Gold every day, preferably with a light meal. If your pain or inflammation is severe on a particular day, a second 1oz serving can help provide additional relief. We think Gold is best when mixed with warm non-dairy milk product and a bit of honey.
The beneficial effects of Synchro Gold are two-fold. Most people experience a reduction in pain symptoms from the very first time they take Synchro Gold, usually within 30 minutes of consuming. For other people, it takes a bit longer and the full benefits are not seen until Gold has had a chance to work consistently for a week or two. To experience the full effects of Synchro Gold , it is recommended to continue to consume at least one 1oz serving per day for a minimum of two weeks such that the full benefits (stimulation of the antioxidant systems, improved brain health) are to allowed time to sufficiently develop.
Nope, Synchro Gold is very shelf stable. That being said, refrigeration after opening will preserve potency and is recommended.